I am sure you know what every gal want, that is to win
$300 Worth Brand New COACH Satchel Bag Contest. This contest is held at Mom Conversations and she is so generous to give this prize away for the lucky winner.

If you are taking part please mention refer by Sherry. I get to earn 15 points for referral.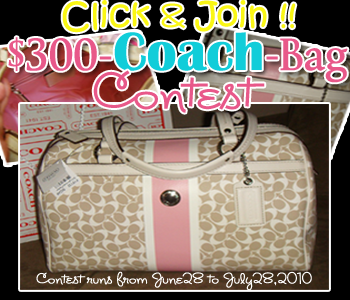 This contest goes by point systems and 25 entrants with the highest points will be qualified for the random.org draw. Woot I can't wait to know who is going to be the lucky winner.
Contest ends on 28 July, 2010. To take part just click on above banner.